Who We Are
In the most important sense, Brooklyn Maqam is the community — the musicians and listeners.  You are the reason Brooklyn Maqam exists and why we do what we do: traditional maqam music is not a one-way presentation of art to an audience, but a collaborative creation that arises from the interaction between artists and the community.  The sammi'a, or musically engaged listener, is as crucial as the musician in a performance.  Our efforts as organizers and musicians is to facilitate these interactions, connecting and strengthening our community around our shared love of this music.  
Marandi Hostetter is a violinist and violist, and has been involved with Arabic music since 2011, performing with numerous groups in NYC and beyond.  She came to the Arabic music community through her work with Bassam Saba and the New York Arabic Orchestra, and has since frequently performed with Michael Ibrahim and the National Arabic Orchestra, The Bil Afrah Project featuring Michel Merhej, Takht al-Nagham, Dolunay, Sharq Attack, and many other groups.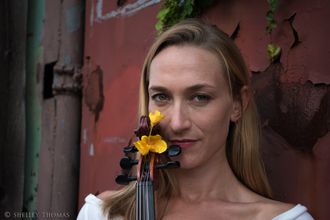 John Murchison is a multi-instrumentalist, performing frequently on bass, qanun, and oud.  He became involved in Arabic music after a tour to Morocco in 2013, and his intense dedication to and immersion in the tradition quickly led to his becoming the first-call bassist for Arabic music in New York.  He has performed with an impressive array of artists, including Hamid Al-Saadi, Lubana Al-Quntar, Maryam Saleh, Wajde Ayub, Nano Raies, Faraj Abyad, George Ziadeh, Sami Abu Shumays & Zikrayat, Layth Sidiq, Bassam Saba and the New York Arabic Orchestra, National Arabic Orchestra, and Takht al-Nagham, among many others.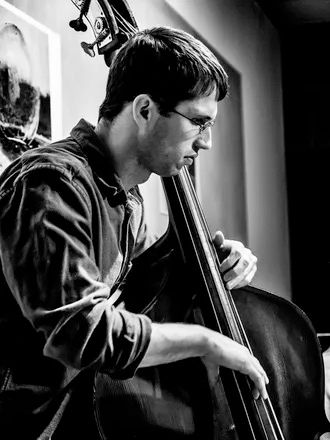 Brian Prunka is an oud player, guitarist and composer.  Though he began studying the oud in 1998, a major turning point in his musical life was in 2001 when he met Simon Shaheen, whose guidance and encouragement led him to immerse himself more deeply into Arabic music and whose mentorship instilled a profound respect for the tradition.  He has performed with numerous artists including Simon Shaheen, Takht al-Nagham, the Bil Afrah Project (featuring Michel Merhej), and Wajde Ayub, in addition to his own maqam-inspired music with Nashaz, Sharq Attack, the Near East River Ensemble.