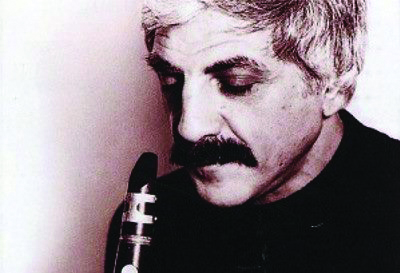 We are thrilled to once again host Souren Baronian.  Souren was at the forefront of mixing Jazz with Middle Eastern music, and has been doing so in NYC for decades.  Now in his 90s, he doesn't hold it against the younger people in his band if they can't keep up with him.     
Souren Baronian's Taksim 
7pm Wednesday July 12th, 2023 
Barbes - 376 9th St, Brooklyn, NY 11215 
$20 cover
Souren Baronian grew up in Spanish Harlem riding two powerful currents of his creativity: his ethnic Armenian heritage, and jazz. His own music is an authentic organic hybrid of those two idioms. The sound of his band is truly unique, applying a jazz vocabulary and the bebop sensibility of Charlie Parker and Lester Young to Middle Eastern rhythms on traditional instruments such as the oud, kaval, dubek, G-clarinet and dumbek. "Taksim" is a Middle Eastern term meaning improvisation, and inspired improvisation is the home territory of Souren Baronian and his band. The Band has toured all over the world and played many of the top venues including the Montreal Jazz Festival, The Blue Note and Outpost.
Featuring: 
Souren Baronian - G-clarinet, soprano saxophone, kaval, duduk 
Adam Good - ud 
Mal Stein - drums, percussion 
Paul Brown - double bass