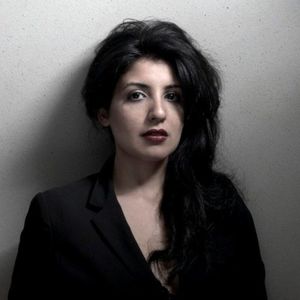 by Insia Malik 
A Brooklyn-based Iraqi vocalist, Zahra AlZubaidi performs a variety of Arabic music styles with a focus on Iraqi maqamat and atwaar. She has appeared with several ensembles in NYC, such as Safaafir & Hamid Al Saadi (Iraqi maqam), Takht al-Nagham (Syrian Music Preservation Initiative), The Brooklyn Nomads, among others. Most recently, she headlined a performance at the Brooklyn Maqam Hang. She has performed in venues including Lincoln Center, Metropolitan Museum, Roulette Intermedium, Rutgers University, and BMCC Tribeca Performing Arts Center. 
How did music figure into your childhood? 
My mother sings beautiful songs, and she is pretty much the reason I love singing. But I think my earliest awareness of music came from witnessing my siblings react to music through their different life stages, watching them fall in love and grow out of love through songs. I'm the youngest of 12 siblings, and my next youngest sibling is six years older than me. Their struggles, ambitions, traumas, and joys were all translated to me through songs. For heartbreaks, there would be Umm Kulthum nights. For a girls' night out, there would be Haytham Yusuf. Dakhil Hassan [YouTube link: https://www.youtube.com/watch?v=orliU0yAIXg], the singer from the city Nasiriyah, was always on for my mother when she had the need to cry or feel joy. His voice reminded her of her father, who was a qari' (reciter) in the mosque. Dakhil was best known for his unique deep voice and long phrases in performing the southern Iraqi atwaar (pl.; sing.: tawr). He's one of the most influential vocalists of Iraqi rural music from the south. 
I got to absorb music through older family members because I was subjected to it all the time. Growing up in Iraq and then later in Jordan as a teenager in a pre-internet era, we didn't have much access to music. We either had what played on television, or someone at home who had the ability to get a cassette or to record music. We always had music physically available at the house, mostly cassettes. CDs were also popular later in the early Internet era, but you either needed to have a car or computer to play them; growing up as a refugee in Jordan, I had neither until my late teenage years. Therefore, I think the less resources there were, the more the need for music there was. You cherish what you have, and you listen to a cassette over and over again. 
What is an example of one of these cassettes that you listened to over and over? 
When Saddam Hussein invaded Kuwait, I had siblings who had lived there since the 1970s. During the years of the Gulf War and sanctions on Iraq, we could no longer connect with them or see them. They would send us cassettes and videotapes with messages from them as well as recorded songs. They would send recordings of Qahtan al-Attar [YouTube link: https://www.youtube.com/watch?v=7ohvqSNZ33A], who by means of Kuwait, fled Iraq and has now ended up in Denmark, like many artists who fled the Ba'athist Party at the time. It was one of the cassettes I cherished later as a teenager. Iraqis love Qahtan and Fouad Salim, both of whom had similar styles and both fled to Kuwait from Iraq. The music of Iraq in the 1970s and 1980s was a lighter version of maqam, focusing on the pestat (rhythmic songs) with a shorter maqam-based improvisation or mawwal. The performers included youngsters who took the baton from pioneers in Iraqi music and other older reciters of maqamat and atwaar, and rearranged the songs of the earlier era during the 70's. This music became very sentimental for Iraqis later because it evokes nostalgia for life before the Ba'ath Party completely imposed upon every aspect of the culture and of life, and dragged the country into a series of wars that lasted for decades. 
Have you been working on music during this pandemic era of extended shutdowns of musical venues and performances? 
The pandemic gave me the space to pull back and study more, as the demand for my presence to be a singer had just accelerated recently, particularly in the beginning of the year. I began working on the 'ud. I had lessons with the 'ud player Farah Zahra and the qanun and bass player, John Murchison. While I didn't play before, what helped was that I already had melodies in my head. It was much easier than I expected to find the notes on the instrument after being so intimidated to do it for so many years. I'm still reading Johnny Farraj and Sami Abu Shumays's book, Inside Arabic Music. I also focused on listening to my mentor, the maqam reciter Hamid al-Saadi recordings, and I've been working with him on some of his videos that he regularly publishes on social media. The repetition of watching him has been the easiest way to get the maqam. 
I've also begun small projects with some members of the music community in New York. Omar Dewachi is an associate professor at Rutgers University and is also a musician. He comes from a really interesting background in Iraqi music of the 1990s. He plays keyboard, 'ud, and synth. We have an appreciation for songs that no one looks for to be musical masterpieces--from late 1980s- and 1990s-Iraq--as an interesting musical archive of some sort. These songs are related to an era--the socio-economic and political phase in Iraq we lived under--where people dressed a certain way, acted in a way, where older Iraqi music was recycled in a certain way: but they have nice simple melodies and fun rhythms. Omar and I are interested in a similar fusion. I'm interested in the classical repertoire of maqam, as I'm aspiring to learn proper recitation. And Omar, who is well-versed in Iraqi maqam music, has a love for creating sounds. So we're experimenting. 
We started working on a piece on the maqam awshar, which is the Iraqi version of the segah maqam (musical mode). It's just very eerie, and focuses a lot on the tawr, a rural musical genre, as opposed to the urban genre of Iraqi maqam. Atwaar represents more of where I'm from, the southern region of Iraq, the music outside from cities. I'm interested in creating more music that honors and experiments with voice and sound in atwaar. This track that we are working on is a tawr ale'nesi, that already exists as a song. My vocal interpretation is faithful to the original song when it comes to the essence, the ruhiyya, but the feel is based on the sound environment Omar creates with his music. It is the ruhiyya that I'm trying to translate with my voice, and with my understanding of the tradition. Staying faithful to that can translate in different ways, but the only reality is you have to practice for years to gain understanding and experience. 
What has your musical journey been like in New York? Was it a place you ever expected would connect you more to Iraqi music? 
Prior to 2018, I was very out of touch with the Arabic music scene because I was working all the time. I was heavily involved in productions and films, both as an actor and a worker in post-production. This was full-time work, and I was just another human being trying to survive NYC. But I continued singing at parties and gatherings during this time. If someone had an 'ud there, I'd take the opportunity to sing. Finally, I had friends who just told me that I really needed to get out and sing publicly. They put an email together saying, "Brooklyn Maqam Hang at Sisters: They'll love you, go!" And so I went to the Hang fully dressed up in traditional attire! The next time I attended the Hang, Johnny Farraj urged me to meet Hamid al-Saadi personally at the Queens Museum where he was to perform. I met Hamid and Amir ElSaffar at the same time. Ustadh Hamid really took me under his wing and started with me from zero. We would talk a lot about maqam, singing, poetry, and his relationship with his renowned mentor, Yusuf 'Umar. There is a whole world around the student-mentor relationship in maqam, playing a huge part in passing down the tradition: I felt very lucky to experience this relationship in a city like New York. I'm grateful to him for introducing me as a vocalist and to have shared the stage with him and with Safaafir, the only ensemble in the United States to perform Iraqi maqam. 
Can you talk more about what Iraqi music means to you? 
Generally, I've always been interested in learning how to perform Iraqi music that I have already known my whole life. When the opportunity finally presented itself, I didn't hesitate, and immediately dropped everything to focus on maqam. At the time, I was feeling very down about politics, and with the length of time I'd been outside of Iraq, I was losing my identity, whatever that means. You try to hold onto something, but there's not much to cling onto because everything is either being erased from memory or you're forced to move on from it and respect the ever-changing nature of life. I struggled to look back the more the years passed by, and I watched the country from the outside, while living inside the idea of Iraq. Iraqis have joined Palestinians along with Syrians and Lebanese in the trauma of displacement and PTSD. We just tend to try not to look back, and to only move forward, it's hard for me to go back and look at where I come from without feeling hurt or shattered by the cruelty of what happened and is still happening, but I still felt the need to connect. Songs are literally a dimension to exist in when you feel dehumanized completely, because your deepest emotions are intact and complete and perfect within them. 
Are you drawn more to performing either maqam or atwaar, and what are the aspects that speak to you? 
At this point, I'm still a beginner. I have a passion for all musical styles and I love listening to both atwaar and maqamat equally. Sometimes, I'm drawn more emotionally to atwaar due to familiarity, while I'm more intimidated by the maqam and the various styles, regions, dialects, languages it has been performed within. But at the same time, I feel very comfortable and in a place to explore and absorb whatever I can. Poetry is relevant for both of them; they're both heavily dependent on playing with poetry and melodies. Whether it's classical or colloquial Arabic, I find that having a passion for Arabic poetry-- and Iraqi poetry specifically--helps a lot in determining my spiritual and mood tendencies. 
Who or what are your other artistic influences and interests? Has acting helped you as a singer? 
Living in different cultures and cities has definitely influenced me; life experiences and the people I worked with in music, film, and stage, and pretty much anything that can teach me something have influenced me as well. I immerse myself in music, but I have other interests in movement, theater, installation, screenwriting, languages, and even photography, working with photographers by creating narratives and unique visuals. 
The acting training was amazing: spending time on stage kills your fear of the public. It helped me be myself more when I'm performing. Acting also trains you to be present as a performer, and to commit to your physical surroundings and to the psychological background that you figure out for your character. Understanding who you are in the moment is key in being present and focused, and to embody the state of emotions you're about to perform in sound or movement. 
You occasionally go live on Instagram to sing and play music. How do you approach these live sessions? 
I really enjoy going online sometimes just to sing. If I see the sky is beautiful, or the breeze is blowing, or there's a nice moment where I'm contemplating life and I want to express myself with a song, I go live. But I quickly realize that maybe going live isn't the best way to engage, because your presence can come across as trivial when you don't have other materials online, as I've only otherwise done live shows. However, my most successful Instagram Live appearance was when I got my mom to go live with me. She's now in her late 70s. She laughs, and has funny answers for everything. My dream is to perform with her at some point, as I'm now learning how to play our favorite songs on 'ud.  
MEDIA 
Sound cloud: 
https://soundcloud.com/zahrazubaidi 
Instagram: 
https://www.instagram.com/zahra_zubaidi/ 
YouTube: