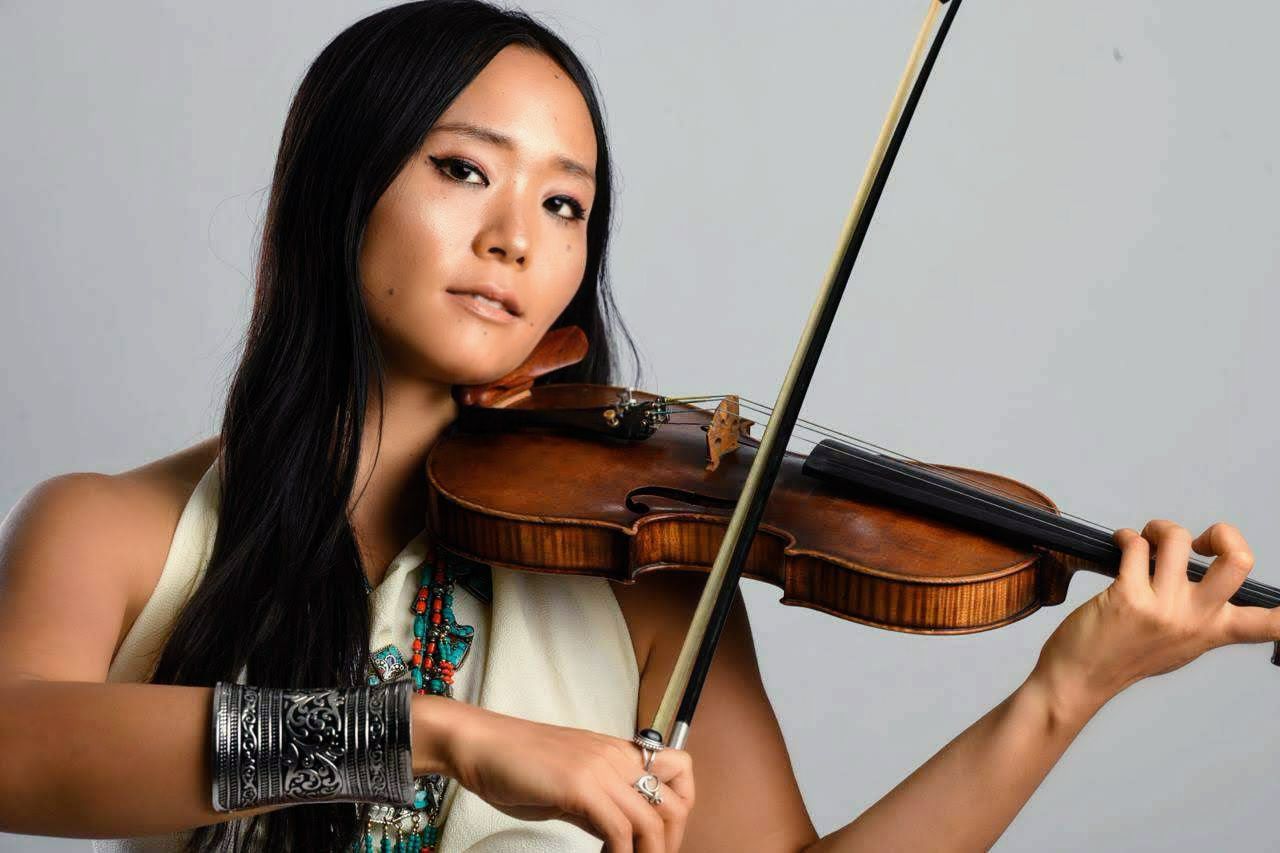 By Insia Malik 
Megumi Saruhashi is a Japanese violinist and composer. Her dedication to bring healing to the heart and restoration of innocent perception through music propelled her to perform around the globe for people in all circumstances from Carnegie Hall to refugee camps in the Middle East. Megumi bounces between New York, Japan, and Egypt constantly, with her passion to compose music that expresses a joyful and boundless celebration of all the cultural influences to which she has been exposed, and fulfills her dedication to the discovery of a universal healing medium that embraces all ages and cultural diversity. www.megumisaruhashi.com 
Where did you grow up and how was music a part of your upbringing? 
I grew up in Japan surrounded by rice fields. My father was a jazz musician, and he was gigging with his quartet in Tokyo until I was about 15 years old. When I was little, his band members would come to the house and jam, so I would hear them rehearse all the time. My mom also plays piano. We used to sing and play when I was little. I played classical piano growing up, but didn't play violin until much later in life. I really wanted to play jazz and loved jazz violin when I was in high school, and I woke up one day realizing I couldn't live anymore without playing violin. I borrowed money from my dad to buy a violin. But I just didn't have the time or the right environment to play. Because Asian college entrance examinations are really stressful, I was studying 16 hours a day for a few years and then gained admission to a top university. I was almost 20 years old when I started playing violin seriously. I was studying comparative cultures at university, but I quit university to come to New York to study violin and jazz. 
That's a huge move! 
Yes, it was huge. I prepared everything by myself. My parents didn't even know I was quitting my school. In Japan, quitting school doesn't exist. In America people transfer, but you just don't do that in Japan. I worked so hard to get into this school and my life was completely set with my program. My parents just couldn't make sense of my decision. Once I was in New York in 2007, I went to the City College of New York, as they had the cheapest bachelor's program in jazz. I didn't know anybody. I shared a small apartment with four people and two dogs, and shared a bed with a friend. While I was in school, I worked the coat check at the Village Vanguard. As I was studying jazz, it was perfect that I was able to see everyone major in the jazz scene perform. And I could watch the show the whole time, since I didn't have to serve anyone. I started to teach 4-5 days a week shortly after the Village Vanguard job, and I was gigging with singer-songwriters, orchestras, and a gospel band while I was in school. 
How did you start playing Arabic music? Was it in New York? 
Yes, it was with Bassam Saba's New York Arabic Orchestra. My friend, violist Edmundo Ramirez, would often bring me onto his gigs, usually classical music ones. This one time he called me, he asked if I wanted to check out the "[something something] orchestra". I only picked up the word "orchestra" and agreed to go without knowing anything! I just showed up to the NYAO rehearsal and I was thinking to myself, seeing all these different [string and percussion] instruments: What's going on here? 
Bassam asked me, "What do you tune in?" [Arabic tuning for the violin differs from Western classical tuning.] 
And I asked, "What do you mean?" 

How did you end up studying with renowned Egyptian violinist and composer, 'Abdu Dagher in Cairo? 
Many people who play Arabic music in Japan study in Cairo and somehow they all study with 'Abdu Dagher. There was a woman in Egypt, Zeinab, I was connected to who speaks Japanese and acts as a secretary to 'Abdu Dagher. We connected and she picked me up from the airport in Cairo when I arrived, even though we had never met. She allowed me to stay with her for seven weeks right after I met her! She introduced me to 'Abdu Dagher, and would call him to make my lesson appointments. 'Abdu Dagher is very pure, with a wonderful sense of humor. Someone asked him why he doesn't charge much to foreigners for private lessons, as he has students come to him every day from different countries. He said he doesn't charge much because he knows he will die one day, but he wants his compositions to stay alive. This is rare, as I've had friends be charged $400 for a single lesson! One of my friends was studying with the old violinist Mohammad Sa'ad Hassan, who used to play with Umm Kulthum. Like 'Abdu Dagher, he didn't really charge and was just thankful people came all the way to Japan to study with him. Some people are so pure with the music, not just trying to monetize and squeeze money out of you. 
I've now been to Cairo five or six times. Since 2017, I've gone for three months in the summers, and for one month during the winter. 
On your website, you state your credo: "The earth is my home, the sky is my blanket. Wherever I go, I am home". Can you tell us more about what this means to you as it relates to your life and performance life? 
This is a quote from the mystic Almine. When I was in New York, I was exposed to a lot of different music. When I was learning jazz, I was also learning English, and I was becoming immersed in American culture for the first time. Next, I was exposed to gospel culture. I was playing in a gospel band in a church in Brooklyn, where I was the only Asian person among black people. I really loved the music, and I was observing different types of people and different types of thinking based in different sufferings. I also got into tango from Argentina and Uruguay, with those musicians' own struggles reflected in their music. Because I was studying comparative cultures in Tokyo, I really loved learning about cultures and people from different places. How different we are and how beautiful all these cultures are really fascinates me. And then Arabic culture really opened me up, because it was the exact opposite of Japanese culture. Anything I can think of, flip it inside out and upside down, that's what Egypt is to Japan. That helped me connect everything that I was experiencing, that diversity makes us rich and shouldn't make us distant: You're fascinating to me because you're different. I really appreciate each culture. That's why whenever I go to other places, I feel like I'm home. I don't feel excluded. You have to find a home within, right? 
What recent performance of yours was most important to you or that was memorable? 
I've performed a bunch of times with the Al Manara ensemble in Cairo. but probably the time when I played solo on the famous Umm Kulthum song "Enta 'Umri" was most memorable. People were so welcoming to me, a foreigner trying to play Arabic music. The musicians and audience were so warm and so helpful. It was also so fun backstage, as everyone was trying to help. I really felt like the audience was also happy to be understood more, as I'm someone coming from Japan. I felt I was able to feel and share love. 
You are also a composer. In what ways has your Arabic music training and time spent in the Middle East impacted your compositional creative process? 
I compose mostly for my group Megumi and Friends. I think the training showed me more possibilities in compositions. Arabic music has the subtleties that [other musical styles have] lost. It helped me to feel the deeper parts of me that I wasn't able to express before. 'Abdu Dagher's entire life was unrestricted by rules. I definitely received something in particular from him that I can't really put into words. 
Who are your favorite musicians and top artistic influences, Arabic or otherwise? 
'Abdu Dagher and the composer Mohammad al-Moogi are my top influences in Arabic music. Aside from Arabic music, I'm really into EDM music, particularly the artist Avicii, who passed away recently. It's a completely different genre but I really feel his soul through his music. Any music that has the truth of the person in it, that really speaks to me. Also, as I played classical piano for 13 years, Chopin and Liszt were a foundation for me: I love the Romantic sound. One of my favorite albums of all time is Nocturne by Charlie Haden. The violinist in this album has really captured my soul. There is also Fernando Otero, the multi-Grammy winning composer and pianist from Argentina. In his music, I see, smell, and can almost touch Buenos Aires. When I first performed his compositions as a duo with him in New Jersey, I was so excited, and he gave me a lot of inspiration as a composer. Also, I love Piazzolla, Quinteto Real, Diego Schissi, and other musicians from Argentina. I've always loved songs from the south of Japan. 
What music have you been working on during this era of quarantine? What's next? 
I'm writing music for my group (Megumi & Friends). I also want to write a violin concerto for myself to be performed with an Arabic orchestra in Cairo. I really love vocal songs, so I'm mainly learning Arabic vocal music these days. In my email newsletter, I share more esoteric things and what is happening in my life and cosmos. I'm starting a Patreon soon, which will be more of a virtual tip jar. On it, I want to share videos of Arabic music and my compositions, as well as my cultural insights, including about learning languages. I'm studying Arabic, and now in quarantine I have much more time to study. Japanese, English, and Arabic are three totally different languages of very different musical cultures, so language has really fascinated me.
Visit Megumi Saruhashi on Patreon
Megumi's Blog: http://megumisaruhashi.com/new-blog/