by Insia Malik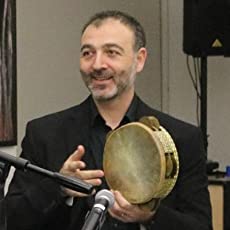 Johnny Farraj is a Lebanese-born musician and software engineer of Palestinian descent. His main instrument is the riqq; he also plays the 'ud and sings. Johnny is the creator of MaqamWorld.com, the leading Internet reference on Arabic music theory, and co-author of the recent comprehensive reference book Inside Arabic Music. Johnny is a frequent Arabic music blogger, teacher and performer, as well as a lifelong listener. He lives in New York City with his wife, their two children, and their cat Cocoa.
How was music a part of your upbringing in Lebanon? How would you describe your musical training? 
I started on the piano at a young age. My mom has a lot of musicians on her side of the family, although they were all Western-trained. She was born at the end of the Ottoman Empire where everything considered good was coming from Europe, and the instrument of choice was the piano. I really hated the lessons for two reasons: I hated practicing and I hated the music I was playing. After a while I decided to quit taking lessons and I started learning music by ear. I would follow along on the piano to Arabic music, such as Fairuz's "Bhibbak Ya Libnan", until she would hit Jins Bayati. And then I got stuck and realized that there are some notes I can't play on piano…interesting! Of course, I'd already heard these other notes and scales before from two religious sources. The mosque was right outside my bedroom window and I would hear the adhan from there all day. Also, the Byzantine music we heard at church had quarter tones and microtones. So, my ear was already attuned, and I did grow up around Arabic music on the radio, it's just that my first instrument didn't incorporate it. 
When I was in Catholic school, I joined a children's choir. So actually, my first instrument was the voice. We learned everything by ear: harmonic music, with some in Latin and some in French. I also joined a Western choir in Abu Dhabi, and two years later when I came to NJ I joined the Kirkpatrick Choir at Rutgers University. Throughout all this I had one common problem which was that I couldn't sight-read music, and I would learn everything by ear. When I lived in England, I went to audition for a prestigious choir. The final test was sight-reading…and I couldn't do it! From then on, I stopped pursuing activities that required reading music. 
How did you end up playing Arabic music and the riqq in particular? 
In 1998, I attended an event at the venue Cedars in New York, where I made friends with Ranya Renee, a belly dancer. She introduced me to the violinist Sami Abu Shumays. One time, we attended a concert of Simon Shaheen at Columbia University. At that point, I had started to accumulate CDs of Arabic music, but I hadn't played any of it. Simon Shaheen's Taqasim was one of them, so I did know him by name. Sami introduced us after, and I went to Simon's Arabic Music Retreat for the first time soon after taking some 'ud lessons with him. Before my first Retreat, I met the percussionist Karim Nagi at a concert by Najib Shaheen, on which he played riqq. He was gregarious and talkative. He loved introducing his instrument to the world. And he said to me, "This is called the riqq, do you want to try it and play it?" He gave me his riqq, saying, "This is how you do the dum, and this is how you do the tak"…and that just blew my mind! I told him, "This is amazing, I'm going to buy one of these." I bought a riqq before my first Retreat and my first instrument my first year there was the riqq. I owe that to Karim. Twenty years later, I try to do the same thing: I try to spot candidates in the audience who are curious about the instrument and let them hold it. Having people hold it can become this magic moment that can really convince someone. Before this moment with Karim, I was aware of the 'ud because everyone knows of it, but I hadn't really thought about the riqq. "This is not a tambourine. You are the leader of the rhythm." Karim taught me this in my first lesson, and now I teach that to my students. 
In this early period, I met Taoufik Ben Amor, who formed a small ensemble that was ideal for me as a beginner. You can't really learn this music between four walls. You have to actually go and practice it in public, with other musicians and a real audience. There was this restaurant called Tagine in Manhattan, and we would play there once a month after rehearsing at Taoufik's apartment. I went to the Retreat six years in a row, and played gigs with Taoufik's ensemble and a few other musicians, and started getting more experience playing Arabic music. 
What more can you tell us about the role of percussion in Arabic music? 
Americans have a problem understanding the concept of the percussionist leading the ensemble. If you shoot a percussionist in a symphony orchestra, probably no one will notice, and everyone will keep playing. But in Umm Kulthum's orchestra, if someone shot Ibrahim al-'Afifi—good luck! Iqa' is a very important component of the music and is almost as complex as maqam. You have to fill up with ornamentation and tashkil, like all the accents put above words in Arabic calligraphy. You flesh it out, give that skeleton a body. You need to learn how to do that, as per the performance. To be the leader, the mechanism by which you lead everyone is through these ornaments and your playing. How do you convey all this information to the ensemble? Through the modulations of iqa', volume, and ornaments. By the end of the piece you've done a million things, by ornamenting and giving information to the rest of the musicians. I can talk about this for hours. There's so much to do on the riqq. I always contend that I know the melody better than the melodic instrumentalists. Also, you have to know the lyrics. One of the important jobs of the "Dabit al-Iqa'" is to catch the vocalist's mistakes. Even excellent singers might skip a beat sometimes (including Umm Kulthum), and the percussionists need to be ready. When you're in a state of saltana or ecstasy you might forget a beat: not a big deal, but we have to be ready for that. You have to know what syllables start on the dum beat. The lead percussionist needs to have a mental map of the song, syllable by syllable on every beat, so they can see whether or not he is dragging or trying to push the beat. 
We lost a legendary riqq player recently, ustaz Michel Merhej Baklouk. How would you describe his legacy? 
Michel is part of an era that is now gone. I think we will continue his legacy, albeit in an inferior way. It's not possible…There was a critical mass of everything (in the Golden Age), of performers and of listeners, and right now we don't have either. There's a better mass of performers but a worse one of listeners. I think so many musicians are coming to like this music but there are not enough listeners to appreciate it. 
On a personal level, I really like Michel's school of playing, and it has influenced me a lot. His approach and philosophy is that you don't show off your technique just for the sake of showing off technique. One time I took a lesson with him, and I asked him if he could show me some variations of the iqa' we were working on. He said, "I can't show you any variations because I don't know what the melody is. If you give me a muwashshah, I'll listen to it, learn the melody, and then show you variations that work with the melody." That was a huge lesson I'll never forget. He refused to ad lib without a melody. Without a melody, you don't just show off your technique. Michel really captured the role of the riqq as the leader of the iqa' and also as the instrument that adapts and supplements and beautifies everything else rather than shows off themselves. 
Describe your ideal setting for a performance. 
It would be a small space, ideally a house concert: 20 to 30 people, with the audience knowing the music and repertoire. The quality rather than the quantity of listeners is important. A small takht ensemble with a singer, and ideally the musicians can double as the chorus, and everybody would improvise a lot in between composed music. The ideal repertoire would be muwashahat or adwar, or the repertoire from any long concert by Sabah Fakhri, with a wasla in one maqam and then a wasla in another maqam: that would be perfect. 
Let's talk listening rituals. You share lots of recordings and links to music on your Facebook page regularly. How do you listen to music? 
I listen on YouTube and start my day pondering what mood I am in. Umm Kulthum, 'Abd al-Halim Hafiz/Warda, or someone from Aleppo: these are the three directions I usually start from in terms of my daily listening. If it's Umm Kulthum, I try to think what song would fit my mood, because each one is so different. Riyad al-Sunbati and Baligh Hamdi are two ends of the spectrum. Sunbati is totally sober and serious. Hamdi is hedonistic and sexy and groovy.  Whereas Mohammad 'Abd al- Wahab is a little bit of both, brainy and groovy at the same time. He's more commercial than the others. My energy for listening is much higher in the morning. The first couple of hours after I wake up are the best time for me to listen. I can reach this really good level of "mental tarab"…I get really high from it. As the day goes by, that mental state goes down. In my normal week while I'm commuting and taking the subway into the city, that's my optimal time. I can start singing on the subway! I can get really excited. 
What were you listening to this morning that you'd recommend? 
A video of Hossein Sabsabi ('ud) and the singer Shadi 'Abd al-Karim from Aleppo, also accompanied by qanun, and an electric guitarist. It filled my head. I think they were in a hotel lobby while on tour just playing between performances.